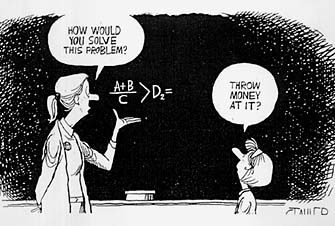 How to solve a problem? Throw more money at it, of course.
That's the thought behind State Superintendent Molly Spearman's push to raise teacher salaries by 2 percent and those of beginning teachers by 6 percent. All increases are welcome in an underpaid profession, but the rationale behind her proposals is full of holes.
Other southern states have forged ahead of South Carolina in teacher pay. So? You mean to tell me that beginning teachers head for different states based on salary alone? You must be joking or incredibly ignorant. And aren't those same beginners leaving the profession in roughly the same percentage as they are here? Of course. It's not the money.
One of the disappointments concerns the flatness of the salary scale, and Spearman hopes to make it even flatter. After 25 years of teaching I'll make how much? You must be kidding! How about putting the six percent on the salaries of those who've weathered the storms for 10 years or more? They're more likely to stick around for 10 more.
Spearman needs a reputable survey of those leaving the profession, one where respondents need not fear repercussions for truth telling. It's too easy to say that the salary was too low instead of pointing out that the district's discipline policy makes teaching a nightmare or that scripted lessons from district staff insult the intelligence.
Please, throw money at the teachers, but remember that, in itself, will not solve the problem.